Semi Drysuit
Semi Dry Suit is a much lighter and more comfortable alternative to traditional drysuits.
These suits offer improved mobility and water resistance, as well as keeping divers much warmer.
They are made from high quality materials that make these suits durable, wear resistant, waterproof and abrasion resistant.
Once donned, they fit snugly through adjustable seals at the neck, elbows and wrists to give maximum comfort to the wearer.
These suits are ideal for diving cruises or deep dives. Every diver should have one of these suits to ensure a safe and comfortable experience.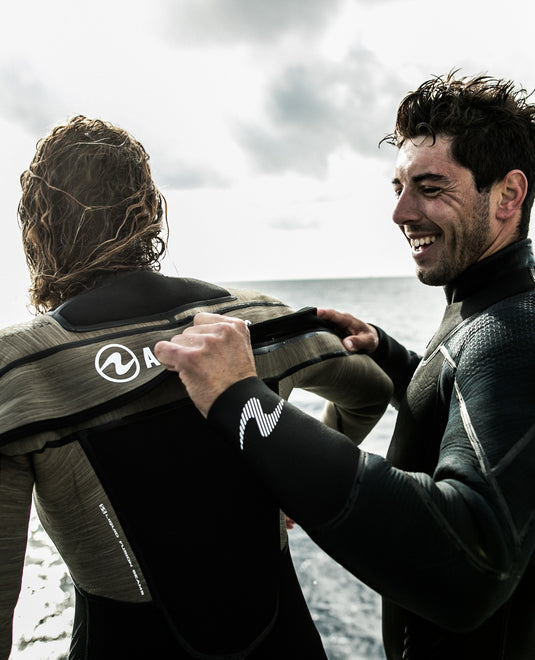 How to choose a Semi Drysuit?
The first thing to do is to consider the climate. If it is a warm environment, then you will want to consider a lighter material that allows you to stay comfortable. This may include a combination of materials and coatings such as Lycra, polyester and neoprene, to allow seawater to drain away quickly enough. Also, if you are in a cold environment, then you will want to pay attention to the insulation in the suit to provide extra warmth and comfort.

Another factor to consider is the type of fit of the suit. There are several options to choose from, depending on whether you want something with a loose or tight fit. The fit you choose will influence the comfort and waterproofness of the suit. If you choose something tight, you can then further secure the waterproofing with Velcro straps, clips and snaps.

You should also consider the quality of the material. This ensures that the suit will last a long time and will not tear easily. Better quality materials are resistant to wear and tear and have a high abrasion resistance, which means they are much more able to withstand sea weather and salt water.

Finally, it is important that you choose the right size for your suit. This means that the suit should be loose enough so that you can move around without difficulty, but tight enough so that water does not leak out.

By taking all these factors into account, you can easily find the perfect semi dry suit.
Looking for more quality scuba diving equipment, we have the best products for you in our online dive shop. Don't miss them!