Wet Suits
Wet suits, also known as wetsuits, are items of clothing designed to keep the diver warm while underwater. They are made of a synthetic rubber material called neoprene, which is an excellent thermal insulator. Neoprene is composed of tiny gas bubbles that trap and retain body heat, which helps keep the diver warm in cold water.

Wet suits usually consist of two pieces, a jacket and trousers, which close with a zip or Velcro at the back. They can also be full-body, covering arms and legs, or short-sleeved and short-legged.

The importance of wet suits in diving lies in their ability to keep the diver warm and comfortable in cold water.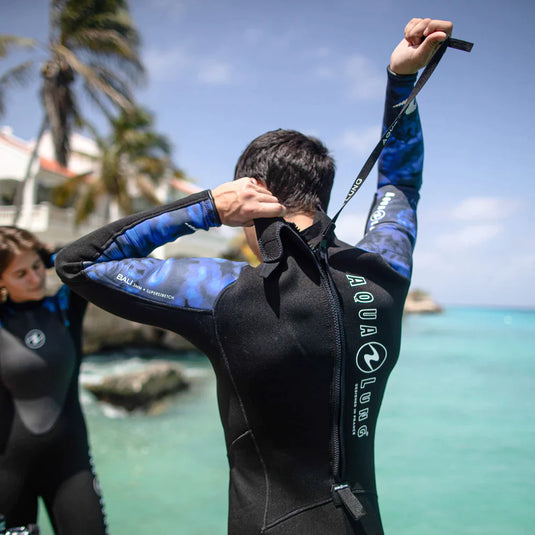 How to choose a Wet Suit?
To choose the right wet suit for you, it is important to consider a few factors, such as the temperature of the water you plan to dive in, your level of experience and your budget.

- Water temperature: Wet suits are available in different thicknesses, ranging from 2mm for warm water to 7mm for very cold water. It is important to choose the right thickness depending on the water temperature. If you dive in cold water, you will need a thicker suit to keep you warm and comfortable.

- Experience level: If you are a beginner diver, you may not need as sophisticated a wet suit as an experienced diver. You may opt for a cheaper option such as a one-piece wetsuit, while more experienced divers may need a two-piece suit with advanced features such as abrasion-resistant outer layers or UV protection.

- Sizing and fit: It is important that the wet suit fits comfortably against your body to prevent water ingress. If it is too large, water will accumulate inside and it will lose effectiveness in providing thermal insulation. Be sure to measure your height and weight and compare with each brand's size chart.

- Budget: Wet suits can be an expensive investment, so it's important to keep your budget in mind. Make sure you look for good quality options that suit your needs without exceeding your spending limit.